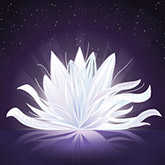 The Secret of the Dark Planet Is...
Transform darkness into light with Pluto Retrograde.

We all have a dark side, whether you want to admit it or not! It may be the secrets you keep or the deep-seated fears you try to ignore, but either way it's part of who you are. This "shadow side" is ruled by Pluto, so be aware: With Pluto Retrograde, the darkest parts of your personality may emerge!
But don't forget -- Pluto is also the planet of transformation. Pluto Retrograde may feel uncomfortable, as it forces you to confront old hurts and unresolved issues. But if you can just make sense of these hidden hang-ups, it's a profound opportunity to heal and grow. This is your perfect chance to...

A Hidden Messages Astrology Report is the best way to ensure you make a positive transformation during Pluto Retrograde. Based on your birth date and astrological influences, this report reveals hidden patterns in your personality and behavior that have been shaped by the planets, your childhood, your subconscious and more. This report brings your hidden messages to light for profound perspective on how to heal past traumas and negativity!
Turn challenges into advantages! Get your Hidden Messages Astrology Reportnow to find your way from darkness to a lighter state of being. You can also get this profound insight at no cost when you use TrialPay.