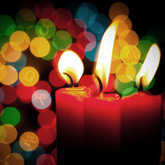 Holiday Traditions Through the Zodiac
Use Astrology to find your perfect yearly ritual

What's your favorite part of the holidays? Whether you celebrate Christmas, Hanukkah, Kwanzaa or Winter Solstice, you've got plenty of traditions to choose from. Here are some of each zodiac sign's favorite ways to make the season merry.
And for the complete rundown on the traits of your zodiac sign and the rest of your Astrology, get your personalized Astrology Birth Chart now!
Aries (March 21 - April 19)
You're in luck, Aries, because most holiday traditions include your favorite element -- Fire! Both Kwanzaa and Hanukkah have candle-lighting rituals that last seven days. On Christmas day, you can take charge of burning the Yule log, an ancient custom that originated in pagan winter solstice Fire festivals.
Taurus (April 20 - May 20)
With all of their delicious traditional foods, the holidays are made for your discerning palate. Christmas party hosts would be wise to check with you when it comes to fine-tuning their spiked eggnog. And if you're Jewish, surely your latkes are the tastiest.
Gemini (May 21 - June 20)
Some people complain about the holidays being too busy, but this time of year is perfect for your short attention span. You love keeping your dance card chock full as you flit from shopping spree to social gathering. Don't be surprised if your family nicknames you "the Blur."
Cancer (June 21 - July 22)
From twinkling lights to boughs of holly, you excel in making your home a warm and comfy haven for intimate gatherings, often decorating with your own handcrafted items. Your friends and family rely on you to create the perfect atmosphere for their best holiday memories.
Leo (July 23 - Aug. 22)
With your big heart, giving thoughtful presents is key to a happy holiday. You also love to hang with the kids because they bring out your playful side ... so you're usually the one on the floor helping them open, assemble and play with their new toys.
Virgo (Aug. 23 - Sept. 22)
You love the miraculous story of Mary's virgin birth, so you look forward to setting up a creche each Christmas season. Since white is your color, you surround the manger scene with billows of cotton snow. Spraying white frost figures on your windows is another one of your favorites. And if it snows on Christmas day ... ecstasy!
Libra (Sept. 23 - Oct. 22)
You have a blast picking out ribbons, paper and other baubles for wrapping presents. It calls on your artistic abilities, satisfies your love of beauty and gives you practice in overcoming your personal bugaboo -- indecision -- since you've only got so many shopping days before your gifts must be wrapped and ready.
Scorpio (Oct. 23 - Nov. 21)
For you, dear Scorpio, it's got to be mistletoe. Adopted from Scandinavia, this tradition gives you the perfect excuse to amp your favorite flirtation up a notch. One can never tell what will come of a kiss in a doorway ... but you could have a very happy New Year!
Sagittarius (Nov. 22 - Dec. 21)
You're a big fan of getting away for the holidays, but if you must stay home, gambling with your cronies on a Christmas football game -- or playing a competitive game online -- can satisfy your restless nature. For Jewish celebrants, try a bout of the traditional Hanukkah betting game and spin the dreidel.
Capricorn (Dec. 22 - Jan. 19)
Family traditions of all types make your nostalgic soul happy as long as they follow the same patterns you grew up with. The Christmas dinner table must have all of your favorite dishes, and everything else, from decorating the tree to opening presents, must be "just so" as well.
Aquarius (Jan. 20 - Feb. 18)
Some families have developed a tradition of volunteering to help the needy during the holidays. Whether that means donating toys to children or helping out in a soup kitchen, you and your community-oriented soul are on board. Sending a hefty donation to your favorite cause might also be on your list.
Pisces (Feb. 19 - March 20)
Even though you usually describe yourself as spiritual rather than religious, you make an exception for Christmas when you look forward to attending a midnight Mass. The dimly lit cathedral with twinkling candles, chiming bells, magical singing and chanted prayers feeds your mystical soul.
Don't forget to grab your personal Astrology Birth Chart for the whole story behind your unique Astrology!