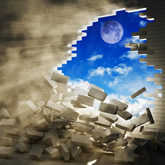 Astrology of Hurricane Sandy

A Full Moon in Taurus hangs overhead as Hurricane Sandy bears down on the East Coast of the United States, and Astrologers are warning everyone to take "Frankenstorm" quite seriously.
This isn't just a big news week for weather -- it's a big news week in terms of cosmic events, too. Astrologer Maria DeSimone reminds us that in addition to today's Full Moon in Taurus, there is a nasty square between Mercury, which rules transportation and communication, and Neptune, which rules water.
"I fully expect this storm to be Mother Nature's nastry trick to all of us this Halloween," Simone said. "Please prepare now so you won't be spooked in a couple of days!"
Mercury also moves into fearless Sagittarius today, which is a bold transit in terms of communication. People tend to speak before thinking during this time, so as Hurricane Sandy creates a great deal of stress it's possible people could lose patience quickly and argue or downright fight.
We here in the Tarot.com office just pulled our Tarot Card of the Moment, which is the 10 of Cups. This reminds us all to be kind to each other during this frightful Frankenstorm, and take care of our friends and neighbors.
With today's Full Moon, we're in for a wild ride. Good luck and be safe, everyone!
Prepare for Hurricane Sandy by reading your Full Moon in Taurus Horoscope »