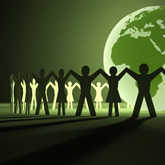 Giving Thanks After Hurricane Sandy

There is no trite message of Thanksgiving from me this year. Mine is gut wrenchingly sincere. I am thankful that my children and I are safe, sheltered and alive.
In late October, I predicted how bad the projected "Frankenstorm" would be when it hit the U.S.'s upper East Coast, based on the cocktail of tense astrological aspects happening at the time. But even I didn't anticipate how accurate my worry and prediction would be.
When faced with chaos in your own life, take back control and find calming clarity with a Peace & Harmony Tarot reading.
I live in Howard Beach, NY -- a close-knit community in Queens about 10 minutes from the now famous Rockaway. My town was not evacuated in advance of the storm. The mayor only evacuated Zone A residents. Howard Beach, until this recent storm, was Zone B.
Almost everyone in my town stayed. We are a community very close to the water, since Rockaway Beach is minutes away. My gym and my local Starbucks overlook the water -- Jamaica Bay. We were close to water but because we were not under mandatory evacuation, we had a false sense of safety. Yes, we anticipated a bad storm and we all prepared accordingly. No, we did not anticipate that our entire town would be destroyed. No one escaped devastation in Howard Beach the night Hurricane Sandy fell.
Including me.
I have many stories that I may choose to share. Eventually. Right now however, I simply wanted to let you know that I am determined to not be a hurricane victim, but to be a hurricane survivor.
I am living with family in another town right now. If it weren't for my family coming to my aid the day after the storm, offering help with the massive clean-up, providing me with safe shelter for as long as we can't live at home, I don't know where I'd be today. Thank you GOD for my family!
During the night of the storm, the entire first floor of my home was flooded and my car was submerged in water.
Here is a video of my neighborhood during the storm. At around 2 minutes you're taken to my town, Howard Beach. At the end of this video (when you see the pizzeria) is the very avenue I live on. My home is a few blocks away from this location. You see flood water reach 5 feet in this video. It was higher as it got later into the night. 7 - 10 feet in some areas. I think my block reached 7 feet.
Sadly, on my first floor was my home office. Instantly, my family and I became carless, homeless, and I lost my office. I lost every single client file I have. My computer, printer, desk and countless Astrology-related business necessities were suddenly covered in salt water and muck. My heart broke when I lost one of my most sentimental possessions -- the collection of audio tapes from the correspondence school that certified me in Astrology.
The boiler/hot water tank and other structures to my home need to be replaced, and my ex-husband is doing his part to get the home livable again. Of course, he is not obligated or responsible to cover my personal damages. I lost my washer and dryer, two refrigerators, my Christmas tree, a vacuum, luggage, coats, boots, shoes and all of my camping equipment. I can go on and on...
FEMA denied my claim and I have appealed it. So far, they haven't given me a penny. My insurance company is not helping either since I did not have flood protection on my plan.
The emotional trauma of watching your town turn into an angry river, and then becoming completely trapped on the second floor of your home with no one to help you is something that will take all of us time to heal from. The very next day a car caught on fire across the street from my house and nearly exploded. It was a miracle fire fighters got there -- we had no communication. Cell phones didn't even work in my area for a few days.
We had no power for 11 days. Looters came into the area and began invading homes and hurting residents. The National Guard was there for a week and then left without any explanation. While we still had no power! That's when the crime got really bad. Howard Beach was largely ignored in the media for some unknown reason, and we did not receive help from the Red Cross or anyone else for what seemed like ages. Instead, our community helped each other -- and it is because of this that we survived the brutal days and weeks after the storm.
Howard Beach residents all suffered dramatic loss. The "typical" situation is the first floor of the home (or basement) and cars. Some lost their entire home. Some lost their lives. It appears no one could escape. Our town has been decimated. My children's school was one of the worst damaged in NY by the storm. It is out of commission until 2013, and the kids have to deal with the stress of being displaced in both home and school.
Every single store in my neighborhood suffered and was out of business for at least two weeks after the storm. Half of them are still out of business. My post office was destroyed and so was my bank.
Still, we are ALIVE! We will rebuild!
The glass is half full
If you've read this far then you've read all the bad stuff. Now, let me lighten your heart and share some of the incredibly positive things that came out of this disaster.
On the other side of my first floor there was a separate apartment. A 93- and 87-year-old man and woman lived there with their dog. I have known this couple for fifteen years. The night of the storm my mother kept telling me to come to her house in a nearby town to stay. My daughter even begged me to go but I insisted that we could hold down the fort. We were home.
Suddenly, at around 8:00 p.m. the large storm surge hit us -- the one that was 7 - 10 feet in certain parts of Howard Beach. I saw the water rushing towards us and kissed my daughter, told her to be brave and that I needed to leave her alone in the house for just a few minutes while I went downstairs to rescue Fred and Dee. My daughter was so brave -- I am so very proud of her. I got to Fred and Dee just in time. Within minutes of helping them upstairs with their dog, we were trapped on my second floor.
If I was not home that night, Fred, Dee and their dog Delilah might have died. God works in mysterious ways, doesn't he?
Another incredibly positive result of this storm is that my town is determined to rebuild. We have become stronger as a community. Initially, all I saw in my town were eyes glazed over in defeat and sadness. Now, this is being replaced with hope, grit and determination to overcome what feels like the most impossible obstacle.
In many ways, we are no match for Mother Nature. She can instantly rip your life apart, or even take it away. But she can never, ever, take away your soul!
This Thanksgiving, while I have lost so much physically and financially, I am thankful because I refuse to lose anything spiritually. We are alive and we will rebuild. That is my mantra.
To all of my viewers on the East Coast who are in the same place I am now, or worse, please know that my heartfelt prayers are with each and every one of you. Don't give up! I know it's hard -- I am living through it with you. Together we will rise above this.
Paying it forward
If you are a direct hurricane victim, who suffered significant loss, when I am back on my feet again I want to help you. I don't know the logistics of how I will do this yet, but I plan to offer a series of free mini consultations to hurricane Sandy victims. If you would like to email me to be placed on my new Hurricane Sandy Astrology Relief mailing list, please feel free to do so. I am not in a position to work yet, but once I am settled and living in my own home again I will contact you with more details.
I want to thank everyone who has emailed me since the storm, offering prayers, care packages and financial donations. I have never been good at receiving help, but this hurricane has brought me to my knees. Another thing to be grateful for -- a lesson in humility.
Blessings to all of you this Thanksgiving and always.
Infuse your life with more peace and gratitude now with a centering Peace & Harmony Tarot reading.