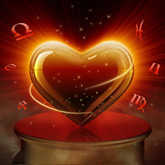 Venus in Aquarius: Enjoy the Moment
Don't lose sight of your love! Use an Intimacy Profile to stay grounded.

For a long time, I had a pattern to my love life. It didn't matter who I was dating, or how perfectly matched we seemed to be ... I over-analyzed things and eventually came to the conclusion of ending it. And getting caught up in logical thinking is not how you enjoy the moment.
I finally realized that accepting love is a lot better than judging it. Accepting love means you have to be 100% clear about what you need and want as a lover. Unfortunately, tomorrow Venus is moving into Aquarius! It'll be an extremely independent time, so try not to over-analyze your own relationship. This is how you stay grounded...

Understanding your astrological make-up can fast-track you toward knowing why you feel the way you do about love. Tarot.com's exclusive Intimacy Profile uses Astrology to analyze the key planets in your chart that relate to your desires, drives, receptivity and commitment fears. It also taps into your ability to ask for what you want instead of waiting for him or her to read your mind!
So while the planet of love drifts into independent Aquarius, get your Intimacy Profile and make sure you're ready to let love in! And now you can take advantage of this insightful time at no cost when you use our TrialPay partner offer.