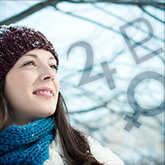 Take a Breath
Find higher purpose during the Jupiter-Pluto oppositions
If we pay attention this week, we can almost feel the earth shifting beneath our feet. Gigantic Jupiter's opposition with profound Pluto is exact on Friday, Jan. 31, 2014, the second in a series of transformative aspects that began last August 7 and finish this April 20.
Jupiter opposite Pluto is a very powerful aspect that represents significant alterations in beliefs and expectations. You can begin this journey of self-exploration with an Inner Reflections Birth Reportto get deeply personal psychological insights that will help you during this time.
Intellectually, it challenges us to re-examine our aspirations and philosophies. We may realize that the goals we're pursuing are either unachievable, irrelevant or simply not worth the effort.
On the other hand, some of us will overreact and become fanatic in expressing our beliefs. Extreme points of view are likely to be presented in ways that are aggressive and disturbing. Still, the goal is to strip away the slogans and habitual statements that support our perspectives and dive into the core of our inner truths.
Cleaning your internal house
Struggles with others may be a projection of the internal cleanup we'd rather not face in ourselves. The more heated you become, the clearer it will be that the real battle is with yourself. Purging any outmoded expectations is a process that is unlikely to be completed until late April.
While this transit is the most powerful of current astrological patterns, there are also changes among three personal planets that can make it feel like we're turning in circles.
The year began with sociable and evaluating Venus Retrograde. Her reversal period in otherwise orderly Capricorn ends on January 31, and Venus Direct in Capricorn will put personal matters, such as love, money, pleasure and self-worth, in the spotlight. Chatty Mercury is also slowing down as it approaches its retrograde turn on February 6, complicating communications while deepening perceptions until February 28.
Don't let Mars Retrograde cramp your style
Assertive Mars is also part of the story, as it began 2014 in accommodating Libra, which tends to cramp its independent and impulsive style. The warrior planet doesn't turn retrograde until March 1, but it will be slowing down all month in advance of its ten-week reversal period. These three inner planet events can entangle us with minor matters, making it more difficult to notice and take action on the more enduring and powerful Jupiter-Pluto oppositions.
However, addressing issues concerned with communication (Mercury), relationships (Venus) and action (Mars) could be a constructive way to prepare ourselves for dealing with bigger changes. Recognize where you can make improvements and invest energy instead of becoming sidetracked by petty problems that cannot be fixed.
Give yourself a break
Fortunately, there is cosmic support for making intelligent choices that will come with the Aquarius New Moon on January 30. This is not only the beginning of a fresh monthly cycle, but is also the day of the Chinese New Year. It represents a broader perspective that can provide answers to our biggest questions. The key to tapping into the power of this lunation is objectivity. Quirky Aquarius may be called the Water-bearer, but it's a brainy Air sign that functions best when we put intellect before emotions.
Cool detachment and taking some distance from current events will reveal larger patterns that enrich the meaning of our lives. We're able to see ourselves as integrated parts of cultures, communities, families and groups of all kinds to provide a meaningful context for our present situations.
Take a break from immediate struggles to breathe in the fresh air of objectivity and innovation that are Aquarius' greatest gifts. Turning down the heat on crises might seem, at first, as if we don't care about them, yet it is a timely tactic for becoming more aware about our higher purpose, potential and finding the means to fulfill them.
Begin finding higher purpose with an Inner Reflections Birth Report now »