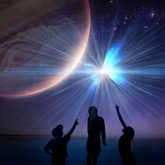 Thank Your Lucky Planet
Attach yourself to good luck and karma with this...

You're not going to be needing your lucky rabbit's foot, or even your 4-leaf clover for that matter.And it's all because the planet of luck, Jupiter, is in Gemini after having just gone direct! This transit brings about an energy that pushes us to explore the furthest boundaries of our minds and create unique opportunities for luck.
But hey, good fortune isn't just going to show up on your doorstep neatly packaged. Nope. To realize good luck you have to actually go out and create it. And while Jupiter is in Gemini it's the perfect time to do just that. Here's a good place to start...

Understanding the role the fortune planet plays for you is what the Jupiter's Promises report is all about. But possibly the coolest aspect of this report is that you'll learn about your Jupiter Returns. Every 12 years, Jupiter returns to the sign it was in when you were born, an anniversary that has a shocking effect on your personal growth. Finding out those major milestones could be the difference between a jackpot and a bust.
Remember, luck doesn't just come to you out of nowhere. You have to put yourself in a position to receive good fortune. Allow yourself to open up to new, exciting ideas with help from a Jupiter's Promises report. And remember that you don't have to have any luck to get this at no cost thanks to TrialPay.