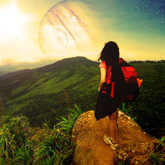 Sun in Sagittarius: Luck is finally on Your Side
Seize the day and achieve something great with a Jupiter's Promises Report

Your destiny is no accident. We only get one shot at this life, and finding true happiness means taking a few risks. For many, it's easy to overthink or be fearful of the unknown. But with the Sun in expansive Sagittarius, we are almost guaranteed a ticket to a life changing experience. I said... "almost"
It's true, there are no guarantees in life. Even with this Sagittarius energy giving us an added boost of confidence, we need to be careful to not be reckless. That's why using Jupiter (Sagittarius' ruling plant) to prepare yourself for unknowns and to create your own good fortune is step number one!

A personalized Jupiter's Promises Report specifically looks at Jupiter's role in your life. Jupiter is known as the planet of good fortune and opportunities. By understanding how its 12-year cycle impacts you over your lifetime, this report analyzes and predicts patterns in your major life shifts. You'll also learn how Jupiter's influence can give you a clear vision and help focus your efforts for maximum results today!
So before the Sun moves into stodgy Capricorn, make sure to aim high with a Jupiter's Promises Report. Or kick off a grand adventure at no cost when you use our TrialPay partner offer.