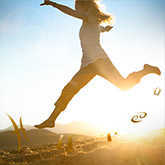 No More Regrets...
Find out what life is trying to teach you right now!

Life doesn't always have to be such a mystery -- especially today! Why? Because Pluto, the planet of transformation, is connecting with the Sun in Taurus. Today you can indulge in a new way of thinking and see things not for what they are, but what they could be!
This immediate opportunity to transcend old patterns will prove meaningless unless you take heed of your own karmic lessons. We all come into this lifetime with lessons to learn, and understanding your current karma is the first step toward paving the future you deserve. But which lessons should you pay attention to? Astrology makes it easy...

Based on your unique birth data, the Current Life Karma Report can help you pinpoint the lessons that truly matter in this lifetime. This personalized 6-chapter report reveals how to use your natural instincts to overcome blockages, weaknesses, and fears, and realize how your major life challenges can be overcome when you recognize them for what they are.
Today the planets are giving you a small window to rise above the lessons of the past. Don't waste it! Get your personalized Current Life Karma Report and move forward with a richer and more rewarding life. You can even learn these valuable lessons for free with TrialPay.