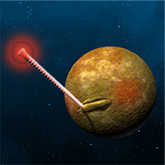 Mercury Retrograde: Exhausted? This Is Why...
If you've been feeling like you can't catch a break ... here's the reason...

If you feel like the last few weeks have been awful, there is a reason: Mercury Retrograde! This tricky planet of communication went retrograde on October 21, and unless you make an effort to outsmart this astrological event, the next week will probably feel crummy, too.
Good news, though! There are simple steps you can take. The art of Feng Shui breaks down your life into manageable chunks (love, work, health, etc.). Using your birth data, it literally tells you which directions to orient yourself to avoid mishaps and to thrive in each area of life. It's painless, fun, and it works instantly!

As soon as you know your best directions (N, E, S, W), you can rearrange your environment to direct a new flow of positive energy. The Feng Shui Kua Energy report reveals and explains your power directions, plus simple color and shape suggestions. This can transform your mood and create the mental space you need to get through the final week of Mercury Retrograde!
Outsmart mischievous Mercury and take a new direction with your own personal Feng Shui Energy Kua report!