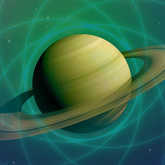 This Rare Planetary Event is In Your Favor
Saturn trine Neptune brings the chance to achieve your life's work

Today's rare alignment between Saturn and Neptune is giving us the ability to bring our dreams into reality! is stirring up major mental activity that could make you feel conflicted and out of control. You need to silence your inner skeptic! We only get one shot at this life to step into our true calling, and understanding your ultimate purpose starts with knowing how to get around what's standing in your way.
Your life does have profound meaning and purpose -- even if you're not sure what that is right now. That's part of the reason we are all here this time around -- to learn to accept and express our mission in life. It's almost like the universe wants us to win this time around ... and here's how!
Understanding your true purpose in life is the key to real happiness. The Astrology Life Purpose Report analyzes the position of Saturn in your personal birth chart, revealing how this planet of discipline and drive is shaping your direction in life. You'll even discover potential obstacles that you may face, and get advice on how to overcome them.
Saturn and Neptune are telling us to bring our dreams into reality! Don't let this rare opportunity pass you by, get an Astrology Life Purpose Report and rekindle your passion and meaning! Or you can get this at no cost when you use our TrialPay partner offer.