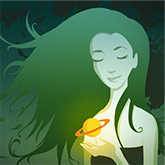 Don't miss your chance to...
Give your life new meaning as the Sun links up with Saturn.

Do you ever feel like you should be doing something different with your life? Only you don't know what it is or how to find out? Well you're not the only one struggling to find your life's true purpose, and right now you have a date with destiny!
The Sun and Saturn are linking up in a special way, urging you to create more meaning in your life. But while this energy is optimal, it won't last very long. So take advantage of this pivotal moment and discover your unique mission now!

The Astrology Life Purpose report analyzes the position of the planets in your personal birth chart, focusing especially on Saturn and your North and South Nodes. Often overlooked, these key placements point to your past lives' influences and your present life's destiny. You have the potential for greatness, and this report is going to show how to get there.
Don't miss this opportunity to create the prosperous future you deserve. Use the Astrology Life Purpose report and start living large!