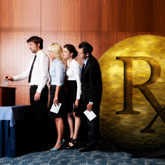 Election Day Takes a Backward Turn

Tuesday, November 6 is Election Day in the U.S., but that's not the half of it. Mercury also goes Retrograde Tuesday, and with the planet of communication spinning backward as we try to get out the vote, we won't just be voting on measures -- we'll need to take some precautionary ones.
You can cut through some of the confusion with advice from a Celtic Cross Tarot reading. But be prepared to experience three weeks of trouble with technology, travel and communication. Needless to say these are three key areas that become extremely important when it comes voting time.
Obviously, voting is already going to be difficult for many Americans on the East Coast who are still dealing with the aftermath of Hurricane Sandy. Many of these people are without transportation, so they will be voting by e-mail. Uh-oh! Do you know how many e-mails get lost during Mercury Retrograde?
Let's hope those voting by e-mail double-check that they are sending their online ballots to the correct e-mail address, and that they are actually hitting "send." We don't want votes lost in cyberspace or accidentally sitting in people's e-mail outboxes for days by mistake.
Mark your ballots carefully
I also hope those who voted by snail mail did so early, so their ballots won't get lost or delayed in the mail. And for those of us voting in person on Tuesday, make sure you mark your ballots very carefully so the machines can read your choices properly.
If you're heading out to a voting booth, you'll also want to watch out for traffic jams and long lines near polling stations. I just heard that many people in Ohio and Florida are standing in lines for up to seven hours, which smacks of Mercury Retrograde.
It's going to be a very long day with plenty of frustration, followed by three more weeks of retrograde madness all the way through Thanksgiving and Black Friday, which kicks off the holiday shopping season.
Of course, there are upsides to Mercury Retrograde, too. It can give us a chance to rest and reflect, so read the Mercury Retrograde Horoscope for your sign to see how you can best stay calm in the chaos. Good luck!