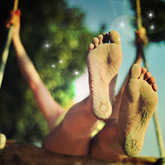 Lazy, Crazy, Hazy Daze of Summer
Mercury Retrograde in Leo puts a backward spin on summer

What's not to love about a long, hot, lazy summer? Mercury Retrograde, that's what. Mischievous Mercury goes retrograde in fiery Leo from July 14 to August 8, and it's sure to make our summer vacation plans more crazy than lazy.
Every time Mercury goes retrograde, which happens three or four times a year, we can expect disruptions in communication, travel and technology -- all the things communication planet Mercury rules.
And now that Mercury is going retrograde in the expressive sign of Leo at the height of summer, it's going to make life especially hazy. But it's not all bad! In fact, Mercury Retrograde in Leo this summer has a few high points.
On one hand, many of us have more time off from work and school during summer. This is good news because Mercury Retrograde wants us to take a time-out. MRx is all about slowing down and taking time to reflect, so give yourself permission to take a beach or woodsy vacation this summer and do nothing but rest and relax.
Leo is such a bold and expressive sign, it's possible you'll even have a few brilliant ideas in the midst of your poolside retrograde haze! Just don't put any of those ideas into action until Mercury goes direct and they'll have a better chance of working out.
More good news? Mercury Retrograde messes with traffic and technology, and lots of things you use at the office -- i.e. telephones, computers and office equipment. So if you're spending fewer hours at work this summer, there will certainly be fewer traffic jams, computer crashes and other opportunities for things to go wrong.
See? Not so bad.
On the other hand, of course, Mercury Retrograde also disrupts travel, which means your summer vacation plans may hit a few bumps in the road. If you're flying, make sure you get to the airport extra early, and if you've booked a hotel somewhere, call ahead to double-check your reservations.
And if anything else goes retrograde-wrong this summer (which it probably will), just try to keep your cool. After all, when life gives you Mercury Retrograde lemons, it's time to make Retrograde Lemonade!