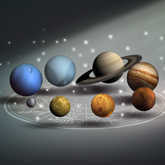 July's Major Events
Master Astrologers Rick and Jeff explain the Astrology events of July 2014

From Mercury Direct and Jupiter in Leo to the Full Moon in Capricorn and a buzz in Cardinal signs, July 2014 is one of the most impactful months of Astrology all year! Projects, relationships, and experiences that have been struggling are ready for this kickstart of cosmic energy that'll help us move forward with anticipation.
Rick Levine explains, "This whole year started with one retrograde after another after another, and now we are moving into new territory."
The real action starts on July 16 when Jupiter, having spent the last year in cozy, homebody Cancer, blazes forward into expressive, creative Leo, where it'll stay until summer of 2015.
"One of the things I really like about Jupiter," Jeff says, "the planet of belief, philosophy and vision for the future, moving into fiery Leo, is that Fire signs have to do with creating things that don't exist yet. I think this forward thrust of Fire -- being able to visualize and create realities based more on the future instead of stuck in the past -- is certainly one of the positive, uplifting forces in this transit."
Now learn more about July 2014 with your sign's Monthly Horoscope here! »