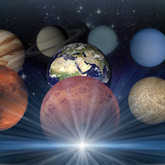 September Is Spectacular
Watch Master Astrologers Rick and Jeff on the Astrology of September 2014

Get ready for an exciting, creative and brilliant September! Master Astrologers Jeff Jawer and Rick Levine are here to help us welcome the change of seasons from summer to fall, as the Sun moves from Virgo to Libra on Sept. 22, 2014.
"This is a month of change, but it's not necessarily the same old stuff we've been dealing with," said Levine. "The larger social, political and economic issues we've been dealing with are not going away. But this is a month where the hope of the potential of what's possible comes into being, especially around the New Moon of September 24, and the following day's Jupiter-Uranus trine. That's a time to aim your intentions and really open up to the potential ahead."
Rick and Jeff predict the whole month is one of refinement, as many planets (including Mercury and Venus) begin to move into Virgo and Libra, two signs that encourage mental and intellectual perfection. But even with this Earth and Air energy, and a Full Moon in Water sign Pisces on September 8, it's the Fire energy we should watch this month.
"Not only is Mars moving into a Fire sign (Sagittarius) on September 13, but Jupiter is in Leo for the entire year, and as we push toward the end of the month there is an exact trine between Jupiter and Uranus on September 25 -- and it's with us all month.
"If we had to talk about only one thing all month, it would be the Jupiter-Uranus trine on September 25," Jawer said. "This is a major aspect -- a big, mind-blowing and expansive event. Every problem that you think locks you up on a personal level and that locks us up on a collective level has possible solutions. I'm not saying we're going to resolve them all, but it's almost like the collective mind is open to information that is not yet in the field when this trine happens."
Levine agrees: "This is a fire in the mind, and so even if we just open our minds to see all the possibilities, we can do the work afterward when the energy settles down. It's the opening of the mind that's so important during this time."
Now learn more about September 2014 with your sign's Monthly Horoscope here! »