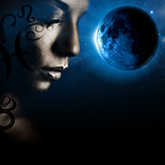 Today's New Moon Has a Message for You...
The New Moon in Pisces has the power to heal and transform

You may not be able to see today's New Moon, but there's no doubt you will feel it. Why? Because this New Moon is kicking off its lunar cycle in sensitive Pisces ... doling out hefty doses of emotional bombshells and breakthroughs. Which will you be dealt?
It's hard to know exactly what the New Moon has to say about your future, but it's not impossible to get a glimpse. The first step is to get in touch with your own "Personal Moon." That's right, each of us has our own connection to the Moon's energy, and it's decided at the moment of your birth. Finding out your lunar destiny is simple...

The Personal Moon Reportuses the exact placement of the Moon at the time you were born to analyze how your emotions react to everyday life challenges. The Moon's connections to your feelings and emotions are constantly at play, but once you understand its power and influence over you, you can build better relationships and work through tough emotions quicker throughout your life.
Don't miss your New Moon breakthrough with a Personal Moon Report, and start on a path toward greater happiness and fulfillment today! Or sample a TrialPay partner offer and get the report at no cost.