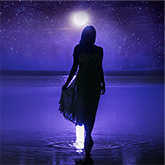 Welcome to the Dark Side!
Use the mystique of Scorpio season to come out of hiding.

Welcome to the dark shadows of Scorpio! This is a period of intense passion, when deep secrets surface. Use this revealing time to illuminate your own dark side with a Personal Moon Astrology Report. By understanding your own complex emotions, you can reap big spiritual rewards this mysterious month...

P.S. Did you know you can get this report at no cost? You can, thanks to TrialPay.