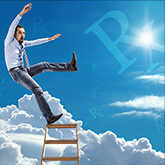 Personal Planets in Retrograde
Three retrograde planets bring us to a tipping point
2014 is getting off to a sluggish start that may require us to be more patient through the end of May. The year began with sociable Venus in reverse. This planet of love, pleasure, peace, and harmony was retrograde in orderly Capricorn until January 31. She's just now picking up speed to put a bit more forward thrust into matters of desire, self-worth and partnership. Her retrograde period, which started on December 21, 2013, corresponded with delays in financial, artistic and romantic matters. But on the plus side, it has also been a time to review and re-evaluate our needs in these areas of life.
You can still move forward with all these planets turning backward! Diminish the delays with a Yes or No Tarot reading now.
Mercury Retrograde
On February 6 mental Mercury turns retrograde, starting its reversal in dreamy Pisces and ending it on February 28 in quirky Aquarius. These thrice annual, 3-week-long Mercury Retrograde periods are known as times when dealing with data, messages, travel, and technology tend to be more complicated. This is especially likely to be the case when this retrograde starts in Pisces, where thinking is softened with feelings and diffused with faith and fantasy. It's easy to get lost in fog banks of illusion, yet imagination and intuition should flourish. Mercury then backs into airy Aquarius on February 12, which can sharpen thinking if we value simple answers more than complicated theories.
Mars Retrograde
The next personal planet getting on the backward merry-go-round is Mars. Usually, he's an assertive warrior driving us to take risks, initiate action and penetrate into new territory. However, Mars entered Libra last December, which cooled off some of the power and passion of this fiery planet. This is a little like a retrograde influence because Mars' usual spontaneity and drive can be blunted by indecision and lassitude in cool Libra.
On March 1, though, the transformation of this primal planet takes another turn when it begins moving retrograde. Mars will backpedal in Libra until May 21, and is unlikely to regain full force until it enters its watery home sign Scorpio on July 26. This doesn't mean that we're going to be frozen in our tracks until then. Life goes forward even when the planets do not, but finding traction and getting new projects off the ground might be more challenging. Relationship-oriented Libra requires bridge-building to mend wounded partnerships or to create new ones. Reaching out to people in socially skillful ways now will be beneficial in the long run. The trick is to double back to make sure that you're current with the needs of potential allies, and are willing to revise and renegotiate the terms of your alliances during Mars' retrograde period.
Find your anchor
It's worth noting that Mercury, Venus and Mars are more about how we think, what we like, and what we do, rather than who we are. They are planets of means -- the ways that we connect intellectually, socially and physically. It is natural to identify with our thoughts, desires and actions and, of course, the circumstances in which we find ourselves. But if you find you are struggling during these retrogrades, it's helpful to step back and find a less entangled place in which to see yourself. Tune into your heart (Sun) and gut (Moon), as well as your beliefs (Jupiter) and commitments (Saturn) to find more solid ground upon which to stand. Adapting to the shifting patterns of these retrograde planets is much easier when the core of self (Sun and Moon) and our aspirations and ambitions (Jupiter and Saturn) remind us of who we are and what we stand for.
Get straight advice in topsy-turvy times with a Yes or No Tarot reading »