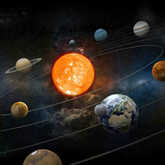 Ring in the New Year Retrograde-Free!
The planets boost us into 2016 with total forward motion

You know that feeling of taking one step forward ... but two steps back? You put all your energy and intention into starting, advancing and finishing up things in your life, but no matter what you do you're just not making any progress. Ahh yes, welcome to the world of retrograde!
All the true planets go retrograde -- and in Astrology, that means you too, Pluto! -- but how often they go retrograde, how long they stay that way, and what it even means varies a lot. Still, no matter which planet is retrograde, one thing's for sure: we'll notice it. When a planet is retrograde, not only does it appear to be moving backward in the sky and, therefore, turn us upside down and inward, but it's also at its closest to Earth, making that planet's energy and effects much more obvious.
Your big chance
In this second half of 2015, we've seen most of the planets go retrograde or turn direct, but we're not in the clear just yet -- Uranus is still retrograde until Dec. 25, 2015. But then, come Dec. 26, there will be no planets in retrograde! That's right, the cosmos are giving us two weeks of breathing room so we can celebrate freely and kick off a fresh new year truly moving forward.
So here's the message from the universe: you know those New Year's resolutions that are hard to make and even harder to keep? Well no excuses this year, because there's nothing working against you! You get this rare opportunity to hit the ground running without feeling like you're wading through the mud. But the key is you must get started ASAP, because the party ends on Jan. 5, 2016, when Mercury turns retrograde, followed by Jupiter's retrograde on Jan. 7 -- then it's up to YOU to keep the ball rolling. Imagine the amount of success you'll feel though, knowing you not only stuck with your resolutions because they're healthy, positive changes for your life and soul, but you stuck with them even in the face of Mercury's mess-ups -- now we're talking power and strength!
See your chances for success! Look into the future with a Timeline Tarot reading now »