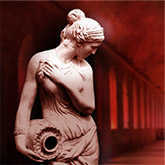 Venus and Mars Are Locked in a Lover's Embrace
You can finally find out what your partner is thinking!

Pop quiz! Which Greek god was the god of love? Don't worry, I had to think about it for a bit, too. After all, 10th-grade English was years ago for me! What I do recall about Greek mythology are the epic tales of passion and love, and tomorrow's romantic alignment between Venus and Mars has the potential to be heavenly.
When Venus and Mars hook up, passions are likely to run hot in the love department. But it doesn't have to be short-lived if we can tell where and how this passion runs deepest, right? Well, we can. Just because we're mere mortals doesn't mean we can't read the heart of our lover or prospective lover...

Inspired by Greek mythology, the Psyche and Eros Relationship Report takes a totally unique look at your partnership from BOTH perspectives. Analyzing your two birth charts and looking at how you each approach relationships and love, you'll get to see your relationship not only through your eyes, but also through your lover's. This insight can unite your minds, hearts, and bodies together for true love and intimacy!
Don't let this opportunity pass you by to finally know what your partner is thinking and feeling! And right now, you can get your Psyche and Eros Relationship Report at a 25% discount.