Oh No He Didn't!
Discover why your partner does the things he does with THIS...

Remember the book Men Are from Mars, Women Are from Venus? This concept may be outdated but one thing still rings true -- even in the healthiest relationships, there will be differences to work through. You may be a neat freak while your partner prefers an environment that is more "lived in." They may be more social while you are an introvert. Or when it comes to emotions, their "heart on the sleeve" tendencies might threaten your desire for privacy.
The key to making this kind of romantic diversity enhance your relationship rather than hurt it, is all about perspective. And because we want to ensure that you have the most accurate insight at your disposal, we are bringing one of our most effective products out of the archives...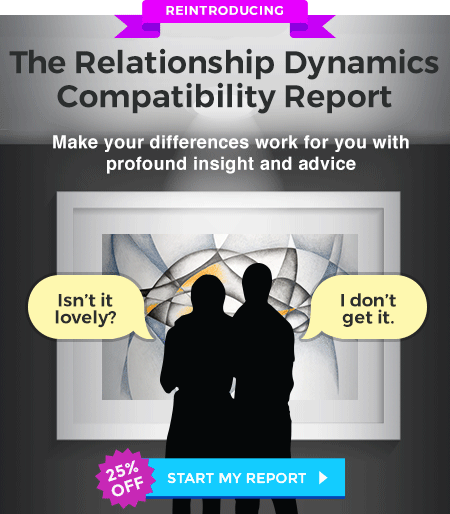 Created by professional relationship counselor and astrologer Dorothy Oja, the Relationship Dynamics Compatibility Report provides ground-breaking insight into the dynamics of you and your partner. Based upon each of your unique birth charts, this report provides the guidance you need to better understand your partner and improve your relationship. And right now this valuable wisdom is available at 25% off!
True love doesn't mean perfection! Let the Relationship Dynamics Compatibility Report show you how to have the best love of your life.