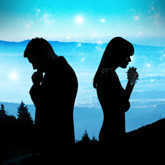 Be Warned: January Is Breakup Month!
Use Astrology to avoid heartache and loss this month

Hold on to your heart! January is National Breakup Month, and if you don't want to join the broken hearts club, you need to take preventive measures now.
Many relationships fall apart in January because the holidays are over and the Sun is in get-real Capricorn. The risk of heartache is even greater this January because love planet Venus is retrograde. But YOU don't have to become a love statistic! Instead, use Astrology to better understand and strengthen your bond.

A Romantic Compatibility Astrology report is a personal and insightful way to avoid this month's relationship pitfalls. Using your unique birth data and that of another person, this report analyzes the two Astrology charts to reveal your natural chemistry and destiny factors that bring you together ... and warn you about the things that could pull you apart. Once you know those things you can safeguard your heart!
January is a doozy of a month when it comes to romance, so protect your love now with a Romantic Compatibility Astrology report! You can also get this in-depth look at your relationship for free with TrialPay.