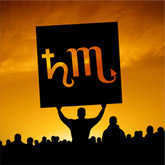 Saturn and Pluto: Intense Revolution
This cosmic dance could change the way we see the world

Saturn is moving through the sign Scorpio until it finally exits into Sagittarius in September 2015. It entered Scorpio for good in October 2012, so by now it's around 11 degrees of that sign. To see how Saturn plays a role in your life, try a Life Purpose Report.
Saturn defines us, but it also limits us. The best policy when Saturn is in one's chart is to be very careful about defining boundaries, restraining material matters, consolidating resources and realizing our identity is in the balance. However when Saturn is in Scorpio, it takes on an added and much more powerful message. What's that message? It means we probe deeper than usual into the mysteries of our lives and the intensity that we carry ... but don't always express clearly. This is because the sign Scorpio describes our depths, what is hidden within and often clues to our darker motives. Although usually hidden, when these qualities do emerge, they are often overpowering and intense.
This is more extreme than usual...
While this sounds quite extreme (and it is!), the situation we all face now is exaggerated because Saturn and Pluto are making together what is called a "mutual reception." A mutual reception is a pair of planets where each planet resides in the other's ruling sign. Hence Pluto, which is in Capricorn, rules Scorpio; and Saturn, which is in Scorpio, rules Capricorn. The fact that they are in sextile to each other on March 8 amplifies this powerful relationship. We can see evidence of this collective aspect in current politics like Israel and the West Bank, Syria, Iraq, Egypt and also the political stalemate in the US Congress relating to the intensity of the gun control struggle in our country. It's also not surprising that many still feel like America is heading toward a fascistic government with too much corporate control. Pluto is government and corporations, while Saturn is control and constraint. Voila.
In our individual lives, we live amid this situation and must deal with it in our own ways. We do this by conserving resources, being more aware of our political voices and being fiscally responsible. Even though the lack of income is hitting many of us ... we are still seeing an exorbitant amount going towards corporations, professional sports and entertainment.
Don't forget to get insight on Saturn's effect on you! Try a Life Purpose Report today »