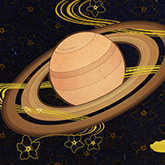 Introducing! Our newest Astrology report
Discover the tests you're supposed to master during this lifetime

There has never been a more important time to question why you were dealt the hand you were in life. With so many tragedies filling up the space around us, it's hard to process our place within the bigger puzzle. Well I'm happy to announce our brand-new Astrology report, which does just that!
Partnering with Japan's leading Western Astrologer Ryuji Kagami, we've developed a unique Astrology report that specifically looks at the life lessons you were handed from the moment you were born. By mapping Saturn -- the planet of challenges and lessons -- at the time of your birth and in the current sky, this new report takes a hard and powerful look at why you have faced the issues you have.

The all-new exclusive Saturn's Lessons Astrology Report provides insightful advice on how you can change your mindset or develop skills to overcome the challenges you face. By understanding why you have experienced these ups and downs and gaining the tools you need to succeed, you can move into the unknown future with ease and comfort.
There is no failure, as long as you try, so start learning your life lessons today with our new Saturn's Lessons Astrology Report. You have a lot more control over your life than you think. And you can get this insight at no cost when you take advantage of our TrialPay partner offer.