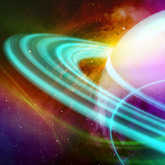 Finally, It's All About YOU!
Saturn Direct has urgent life lessons for you!

Today more than ever before it's important to ask yourself, "What am I doing?!" Why now? Because Saturn is finally moving forward in Scorpio, putting serious focus back on YOU and what you are meant to do. But first you need to understand from where your challenges stem.
While many of life's challenges are out of your hands, you do have the power to overcome your issues. It all starts with Saturn. Knowing where your biggest challenges lie will give you the greatest rewards, and seeing where Saturn is in your birth chart is the key to...

Our exclusive Saturn's Lessons Astrology Report provides insightful advice on how you can change your mindset and develop skills to overcome your unique challenges. By understanding why you have experienced these ups and downs and gaining the tools you need to succeed, you can move into the unknown future with ease and comfort.
You have a lot more control over your life than you think! So start moving forward today with a Saturn's Lessons Astrology Report. You can also get this insight at no cost when you take advantage of our TrialPay partner offer.