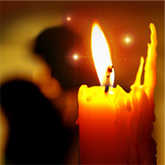 Get Inside Your Lover's Mind!
Use today's Mars-Jupiter alignment to get what you want in love.

Desire is so mysterious, isn't it? The things that attract and arouse one person don't always work with another. People are unique, so whether you're trying to melt the one you desire or rekindle the flames of passion, your approach should be one-of-a-kind, too!
Today, Mars and Jupiter are firing up your overall energy, sex drive, and stamina, making this an ideal time to entice your current or potential lover. Make your next move meaningful with customized insight about the object of your affection.

Our unique Astrology Seduction Reportanalyzes the birth chart of the person you're attracted to, examining the placement of their Sun and key passion planets. This report lays out an actual plan for you to establish the emotional and physical connection necessary for a great relationship!
The planets won't be fanning the flames for long, so get inside your lover's mind today with the Astrology Seduction Report! You can even get this exciting report for free with TrialPay.