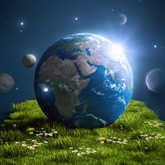 Spring 2012 Astrology Forecast
It's Spring Equinox, Sun in Aries and Astrological New Year!
The Sun's entry into fiery Aries at 10:14 p.m. March 19 (PDT) / 1:14 a.m. March 20 (EDT) marks Spring Equinox and the beginning of a new astrological year. Aries, the first zodiac sign, represents the rising energy of spring, which is rich in enthusiasm for the new season.
The impulsive Aries New Moon on March 22 can spur us into action, but it's likely a bit more planning will be needed to ensure a successful mission. There may be sudden changes of direction with a solar connection to revolutionary Uranus on March 24, and with provocative Pluto on March 29. Rebelliousness and restless behavior are encouraged, but jumping ship without a life jacket is not recommended.
Full speed ahead: Mars and Mercury Direct
A key event in this seasonal story is the shift of direction of assertive Mars, the planet traditionally associated with Aries. Mars has been retrograde since late January, and it finally starts to move forward again on April 13. This should help advance projects where wheels have been spinning without making much progress.
Brainy Mercury also ends its retrograde period on April 4, which puts wind in our sails by enhancing communication and encouraging imagination in magical Pisces. Mercury then returns to rambunctious Aries on April 16, speeding up thinking, before joining Uranus on April 22 to excite minds with brilliant ideas or stir conflict with controversial remarks.
Romantic jitters: Venus in Gemini
Relationships may be less reliable when love planet Venus enters jittery Gemini on April 3. This transit is wonderful for flirting and casual conversations, but it can reduce our feelings of security with others.
Venus' retrograde turn on May 15 begins a six-week period of re-evaluation that can alter the course of personal and professional alliances and stir up nostalgia for the past. Going back to old partners, styles and sources of pleasure can be especially appealing during this period. Yet moving ahead in relationships is going to take more patience than usual. Tastes can change quickly, which makes this a less than ideal time to make emotional commitments.
Ride the waves of change
The most important issue at the season rolls out is to take a big picture view of life. We're heading toward a transformational period this summer as Uranus and Pluto begin a series of structure-altering squares with one another that will last through 2015. The world is likely to change significantly, and the best way to avoid shocks is to be on the front edge of the wave.

The Aries New Moon on March 22 and solar transits through the end of the month can trigger foreshocks of what's to come. An open-minded and experimental approach can make one a positive agent of change rather than a victim of it.