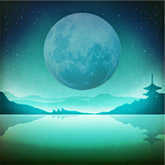 This Full Moon Is Especially Stressful...
Today's Full Moon is a BLUE MOON -- bringing a double dose of emotional energy

It's a fact -- Full Moons ramp up the emotional intensity of any situation. So what happens when you have TWO Full Moons back-to-back in the same zodiac Sign? That's so rare it's called a "Blue Moon" ... and it can be doubly stressful.
Tonight's Full Moon is a Blue Moon in the heady sign of Aquarius for the second time in a row. With little time to recover from the last Full Moon in Aquarius, we'll be forced to face pesky feelings and anxiety that our logical self would rather avoid. That's why we are introducing our brand new Stress Relief Astrology Report by Ryuji Kagami, just in time for tonight's lunar event...

Ryuji Kagami's new Stress Relief Astrology Report was designed specifically to dive into the Moon's influence on your unique stress patterns. By analyzing the Moon's placement in your chart, this report identifies exactly where your stress comes from, how much you can handle, and what you can do about it. It will not only help you get off the roller coaster of anxiety, but it will help you see patterns of why you get on in the first place, how to get off, and when to ride it out.
Just because it's a Blue Moon doesn't mean it has to make you blue! Get your Stress Relief Astrology Report and take advantage of this rare opportunity to become happier and more fulfilled!