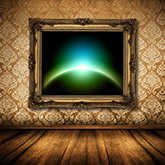 The Past and the Future
Searching for answers in a time of monumental changes...
To see how these two planets of immense change will influence you over the next year, try our Big Picture Astrology Forecast.
An eye for the future
I'm a strong believer in our capacity to create a better tomorrow and tend to be a little skeptical about the wisdom of the past. Certainly, we wouldn't have the many gifts of civilization without the work and thought of our ancestors. Yet, I'm resistant to relying on old models, which is as much a reflection of my own taste for experimentation as it is of current astrological conditions.
Nevertheless, Jupiter is the planet of wisdom; not the only source of it, but the lens through which we get perspective and understanding that shape our values, beliefs and expectations. This meaningful planet is in the tradition loving sign Cancer until mid-July.
Take a closer look at yourself
This transit means that there's a great deal to be learned by taking a second look at what we've learned from our personal history. The values and beliefs of our families may not entirely match current realities but it's worth reviewing them. Underneath the debris of discarded ideas are key points that are applicable to the present. You might have to peel away some of the judgments that strangle traditional wisdom with models of guilt, shame and punishment. This is certainly not about recreating the reality of our parents and grandparents ... or taking on religious prejudices that have we've struggled to leave behind. It's about building bridges between the future and the past. Reinterpreting the truths of our ancestors makes them useful to us now.
Keep an open mind
Jupiter in sensitive Cancer is also a reminder that we can even find answers in our emotions. Normally, we think of strong feelings as distortions and subjective experiences that close minds instead of opening them. However, this transit enriches us with understanding when we are willing to observe our emotions rather than criticizing or rationalizing them. This is not to say that every personal reaction and response is a reflection of some higher truth. But when we face our feelings with open minds we find critical kernels of information about who we are and what we can become.
The utility of these observations, though, depends upon how we interpret them. If these old experiences are seen as persistent forces that will always evoke the same responses, then don't look back. When patterns are viewed as permanent markings on our psyches they inhibit growth. Yet when we understand that emotional wounds can heal just like physical ones, we are no longer frozen by personal trauma. We become free to live in the present where we can draw upon the wisdom of the past to create a brighter future.
Don't forget to take a peek at your own future with Rick Levine and Jeff Jawer's Big Picture Astrology Forecast »