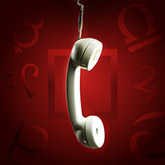 Weekly Astrology: April 13-19, 2014
Hang up the phone! This week is off the hook

There's serious malefic energy at work when it comes to communication this week. Adding to the tension will be an emotionally-charged Full Moon Lunar Eclipse in the relationship sign of Libra, right in the midst of the communication drama.
Fortunately, we'll enjoy a slight reprieve by later in the week, as the benefic planets (Venus and Jupiter) play nice. By Sunday, however, big changes loom ahead. Are you ready? The best advice for early this week will be to keep your mouth shut. Listen to conversations around you, but don't respond. You'll be glad you exercised this incredible control if you listen, but be warned: It will be quite difficult to listen.
See what's going to happen in your near future with a Timeline Tarot reading, and here's the lowdown on the key cosmic events the week of April 13-19, 2014.
Monday, April 14 and Tuesday, April 15: Mercury in Aries square Jupiter in Cancer; Mercury conjunct Uranus; Pluto Retrograde; Full Moon Lunar Eclipse in Libra; and Mercury in Aries square Pluto in Capricorn
On Monday, Mercury will square Jupiter and conjunct Uranus, and then on Tuesday it will square Pluto. This is communication poison! Adding to the stress will be a potent Full Moon Lunar Eclipse in Libra on Tuesday. A vital partnership may come to an end under the stressful aspects here.
The interesting twist, however, is that as much as you may resist letting go of this alliance, you'll begin to thrive once you make peace with what's happening.
Thursday, April 17 and Friday, April 18: Venus in Pisces trine Jupiter in Cancer and Venus in Pisces sextile Pluto in Capricorn
Supportive links from Venus to Jupiter and Venus to Pluto on Thursday and Friday will remind you that you have unlimited gifts inside of you to thrive. Self-love leads to empowerment.
Saturday, April 19 and Sunday, April 20: Sun in Taurus; Jupiter square Uranus; and Jupiter opposite Pluto
On Saturday, the Sun enters Taurus, adding to the theme of shining a light on your personal talents in order to enhance your self-worth profile.
By Sunday, an inflated sense of righteousness about a certain matter may lead you to take dramatic action. Be true to yourself without getting too big for your britches.
See what's going to happen in your near future with a Timeline Tarot reading now »