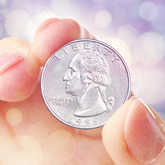 Weekly Astrology: April 17-23, 2017
Two sides of the same coin

There's plenty of stability early in the week that you'll want to take advantage of -- but by week's end, you could feel as though things in your relationship are anything but stable. Read on for more details....
Monday, April 17: Sun trine Saturn
On Monday, the Sun will trine Saturn, allowing you to set your sights on a goal and expend all of your being to achieve it.
Get daily advice for this week with your own Weekly Forecast Tarot Reading.
Wednesday, April 19: Sun enters Taurus
The Sun enters Taurus on Wednesday, focusing your vitality on the material side of life.
Thursday, April 20: Sun conjunct Mercury; Mercury Retrograde enters Aries; Pluto Retrograde;
With the Sun conjunct retrograde Mercury on Thursday, you'll be able to fix an old problem connected to finances. Mercury then dips into Aries later in the day, and he'll remain here for the rest of his retrograde (until May 3). Now you'll re-evaluate matters connected to your personal goals and sense of self.
Also on this day, Pluto will turn retrograde until September 28. Wherever you might be on the transformation scale in your life, you'll take a pause and begin to reflect on how far you've come -- and how much farther you have to go.
Friday, April 21: Mars enters Gemini; Venus square Saturn
Last but not least, on Friday, Mars enters Gemini where he'll remain until June 4. Actions are a result of quick and clever thinking. You will also find that the most attractive quality in a person is his or her mind. Unfortunately, Friday won't be a romantic day since Venus will also be square Saturn. You might actually realize how many limitations your relationship has because your beliefs or mode of thinking in a certain way are so far apart.
Get more information from your Weekly Forecast Tarot Reading now »