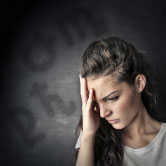 Weekly Astrology: April 18-24, 2016
Plunging into the depths

It's time to go below the surface this week as internal feelings intensify...
Monday, April 18: Pluto Retrograde; Venus trine Saturn
The dark side of Pluto will become more internalized starting Monday, as he begins his long retrograde phase. The outer planet's retrograde will affect you deeply if it passes over one of your personal planets. During the next several months, until September 26, you will be called to look deep inside for answers. Don't fight it.
Venus will also trine Saturn on Monday, offering the only day this week to enjoy stability in love. After that, things will get dicey.
Get full-circle guidance for this complicated time with a Horoscope Tarot reading now.
Tuesday, April 19: Sun enters Taurus; Venus square Pluto
On Tuesday, the Sun enters Taurus and it'll be a feast of the senses for all! Venus will square Pluto however, and it's possible that lust, obsession, and jealousy will prevail. The power of love is emphasized, but in a way that makes it all too easy to misuse this power. Beware!
Friday, April 22: Full Moon in Scorpio; Venus conjunct Uranus
On Friday, a Full Moon in Scorpio illuminates the depths even more. Fortunately, this Full Moon will make a gorgeous link to Neptune, which can help inspire us to reach the heights as we plumb through our dark matter. Venus is conjunct Uranus on the same day, and nothing will be as it seems in matters of the heart.
Start a Horoscope Tarot reading now for personal guidance &raquo