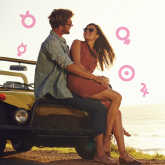 Weekly Astrology: April 20-26, 2015
Lovers can rejoice as sparks fly this week!

Expect plenty of sensuality and sexy love potential this week! Get personal insight into the week ahead with a Weekly Forecast Tarot reading, and here's the lowdown on the key cosmic events the week of April 20-26, 2015.
Monday, April 20: Sun in Taurus
On Monday, the Sun enters Taurus, and you'll be able to shine a light on meeting whatever physical needs you have. Material comforts become more important now, and it'll be a great time to focus on creating something you can really sink your teeth into. That can be anything from a relationship to building a home -- or even your bank account.
Tuesday, April 21: Mercury square Jupiter and Mars trine Pluto
On Tuesday, Mercurysquares off with Jupiter, and you'll want to be careful not to promise more than you can deliver. The good news is that with Mars trine Pluto, if you do promise the world, you won't rest until you've made good on it. It'll also be a great day for lusty, earthy sex with someone special, thanks to the influence of these planets in Taurus and Capricorn.
Wednesday, April 22: Mercury trine Pluto; Venus sextile Jupiter; and Mercury conjunct Mars
Wednesday could be the best day of the week, thanks to Mercury trine Pluto and conjunct Mars, as well as Venus sextile Jupiter. You'll be passionate about communication, and you will have no problem asking your lover for what you want. Lucky for you, it appears your sweetheart will aim to please!
Sunday, April 26: Venus sextile Uranus
Then, on Sunday, Venus and Uranus connect in a way that's sure to create exciting sparks in your love life. Yes!
See what's in store for you personally with a Weekly Forecast Tarot reading now »