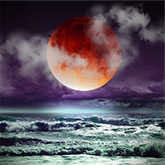 Weekly Astrology: April 22-28, 2013
Get ready for an intense and emotional week!

Emotions run high this week as finances tighten, ideas spin out of control and Thursday's Full Moon Lunar Eclipse in Scorpio signifies intense internal struggles.
See what's in store for you personally with a 30-Day Astrology Forecast, and here's the lowdown on the key cosmic events the week of April 22-28, 2013.
Monday, April 22: Venus in Taurus opposite Saturn in Scorpio
Whether or not you've been a spendthrift is beside the point, because it looks like you're about to pay the piper on Monday, when Venus in Taurus makes an opposition to Saturn in Scorpio.
Taurus and Scorpio are the two money signs of the zodiac, and they often have tremendous implication in our lives when it comes to power and the correct use of it. Because money planet Venus will oppose sober Saturn, you might discover that money is suddenly tighter than you expected.
The reality of the situation is this: If you have a major expense on the horizon and you knew it was coming soon, then it's simply time to pay your debt. This isn't likely to be a surprise -- you've definitely had this bill on your desk for a while now. Get rid of it and don't cry about it, either. Saturn has little patience for tears.
Tuesday, April 23: Mercury in Aries sextile Jupiter in Gemini
Fortunately, by Tuesday your mind will be positive. And fast.
Mercury in Aries will link up to Jupiter in Gemini. Ideas will fly and you'll assertively speak your mind with confidence. Although a grand plan might be tough to pull off, you know you can do it -- and everyone else around you will seem to agree. Go for it!
Wednesday, April 24: Venus in Taurus trine Pluto in Capricorn
Finances are once again on the uptick by Wednesday, when Venus in Taurus will make a perfect trine to Pluto in Capricorn. This is money, business and sound investments. Consider making an appointment with your financial advisor to discuss ways to improve your nest egg. You'll be glad you did!
You may also discover that your boss is in the midst of negotiating a healthier 401k plan for you and the rest of the office, or that you'll receive another type of insurance benefit.
Thursday, April 25: Full Moon Lunar Eclipse in Scorpio
The headline news this week, however, is Thursday's Full Moon Lunar Eclipse in Scorpio at 6 degrees. If you have personal planets or an angle on your chart between approximately 3 and 9 degrees of any Fixed sign (Taurus, Leo, Scorpio or Aquarius) you'll likely feel the pack of this Eclipse's punch.
The eclipse will be closely conjunct Saturn and opposite Mars, suggesting that an internal fight about what you know you need to let go of may ensue. If there's an emotionally-charged situation brewing around you it might be hard to forgive or to surrender. Try to remember that the higher expression of Scorpio energy is about letting go.
Alternatively, there might be a situation you're in where you want to retain power. If so, this Lunar Eclipse could feel more unsettling because a tight grip will only leave you in pain. Ultimately, with this Lunar Eclipse, the greatest power just might come from accepting your personal limitations, and (if you can) taking the high road.
Remember not to make a major decision during an eclipse, too, even if the eclipse does not affect your chart personally. People around you might be troubled and this could affect you. The energy in the sky is super-charged at eclipse times and it's always better to be in receiving mode, rather than move forward with a decision you're making due to intense emotions. Plan and strategize, but be patient. See what happens.
Friday, April 26: Mars in Taurus sextile Neptune in Pisces
Although the Lunar Eclipse energy will still be the dominating force on Friday, we'll also experience Mars in Taurus at a fine angle to Neptune in Pisces. This is a classic aspect for inspired action, and you have the gusto to manifest a dream or imaginative pursuit.
This might also be a great day and evening to enjoy a romantic interlude with someone special. Or, at the very least, to fantasize about a romantic interlude with someone special. Hey, you've got to work off all that stressful Lunar Eclipse energy some way!
Watch your Insightful Astrology Weekly Video Horoscope now »