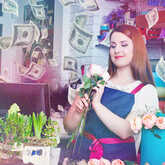 Weekly Astrology: April 24-30, 2017
Show me the money

Although Mercury is still retrograde this week, there might be a few breakthroughs in communications-related matters. Will this cosmic support yield incredible results? Find out now...
Monday, April 24: Mercury trine Saturn
On Monday, retrograde Mercury will trine Saturn. Careful revision of your thoughts or a business plan will yield success.
Wednesday, April 26: New Moon in Taurus
A New Moon in Taurus fortifies this potential for success, and over the next two weeks, you might cultivate one of your talents and use it to earn extra cash.
Friday, April 28: Mercury conjunct Uranus; Venus enters Aries
On Friday, retrograde Mercury will conjunct Uranus, allowing inventive ideas from the past to re-emerge successfully this time around. Also on Friday, Venus will enter Aries, and remains here until June 6. Love is ardent, ambitious, and thrill-seeking. The chase, however, will always be more exciting than the actual catch.
Find guidance for the new things you're starting now with a New Beginnings Tarot reading »