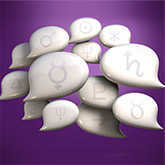 Weekly Astrology: April 29 to May 5, 2013
Don't be a victim of stinkin' thinkin' this week!

Get ready for a week of serious communication! Mercury enters steady Taurus on Wednesday, and by the weekend Mercury will oppose Saturn, filling you with doubt about a vital decision. Will you overcome it?
See what's in store for you personally with a 30-Day Astrology Forecast, and here's the lowdown on the key cosmic events the week of April 29 to May 5, 2013.
Wednesday, May 1: Mars opposite Saturn, Mercury in Taurus and Sun trine Pluto
With Mercury in Taurus from Wednesday through May 15, matters of the mind will be focused on practicality. The pace of your mind will slow down enough to ensure that any idea or thought is workable. Deliberate thinking and decisions based on physical and financial security are likely to be your focus now. In fact, it'll be a great time to make a plan revolving around your budget or to take a look at your income vs. expenses. If you're learning new material now, no matter what the subject matter you may notice that it takes longer to comprehend. Don't worry. With Mercury in Taurus, once it sinks in it's there for good!
Also on Wednesday, Mars will oppose Saturn. In addition to your mind slowing down, your body might follow. Thankfully, this will be temporary. However, the energy of Mars in opposition to Saturn is often felt like trying to push past a brick wall. It's just not going to budge. Remember, taking pause now might help you develop a better strategy that will ultimately maximize your ability to achieve any important goal.
Fortunately, the Sun will trinePluto on Wednesday, as well, and this energy will help you retain your resolve to achieve what's important to you. Empowerment is yours -- even if you need to take one step forward and two steps back in order to get there.
Saturday: Mercury sextile Neptune, Mercury opposite Saturn and Mars trine Pluto
Early Saturday, Mercury and Neptune will snuggle up and you'll have plenty of idealism about a conversation, idea or plan. Be prepared for your bubble to burst the very next day, however. Reality bites.
You see, by Sunday, mental energy will be tricky to navigate. You might have a case of the blues by Sunday thanks to Mercury opposing Saturn. This aspect can feel like someone is throwing negativity all over your state of mind. Instead of becoming a victim of stinkin' thinkin', why not use this energy to help you focus on an important decision at hand? Make a list of the pros and cons and see what stands out.
Avoid asking others for advice now -- especially people in a position of authority. What may happen is that instead of guidance, all you hear is criticism. This potential will only make you feel more insecure about your own decision making or intellectual capacity.
The beauty of Mercury-Saturn is that it'll force you to take a sober look at one of your ideas in order to determine if it really is workable. It might not be, and if so you'll have a realistic assessment by the end of the week. However, if you feel it is still plausible, you'll also have a handle on what you can do to improve its chances of success.
Mars will also trine Pluto on Sunday. Mentally you might feel off the mark, but physically you'll be a total powerhouse. Use this energy for an extra workout at the gym or outdoors. Or, if you prefer, just go out and move a mountain. Come on, you know you can.
Watch your Insightful Astrology Weekly Video Horoscope now »