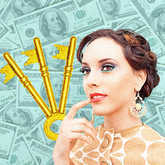 Weekly Astrology: April 3-9, 2017
Press pause

The beginning of this week starts off with a bang, but by the end, it will feel like everything is on hold. The way you approach success and finances will be a theme of internal dialogue, and you may find yourself viewing this matter through a different lens. Learn more below...
Look back AND forward during this week of retrogrades with a Timeline Tarot Reading.
Wednesday, April 5: Mars trine Pluto
On Wednesday, Mars and Pluto will be at a gorgeous trine to each other. There is no other combination of planets better for success through your sheer willpower and determination. Use them well.
Thursday, April 6: Saturn Retrograde
Then, on Thursday, Saturn turns retrograde until August 25. Launching a new business might take longer than expected. This will be a good time to look within and re-evaluate your goals, beliefs, and expectations around success.
Friday, April 7: Sun opposite Jupiter
The Sun will oppose Jupiter on Friday, and you'll be exuberant -- just don't bite off more than you can chew!
Saturday, April 8: Venus square Saturn; Sun square Pluto
On Saturday, Venus will square off with retrograde Saturn while the Sun is square Pluto. This is an "ouch" day all around. Love isn't satisfying, and power struggles emerge everywhere -- especially in professional matters.
Sunday, April 9: Mercury Retrograde in Taurus
Finally, on Sunday, Mercury will turn retrograde in Taurus, and won't be direct again until May 3. This is the time to review your budget and take stock of your material assets. You might also revise your approach to finances.