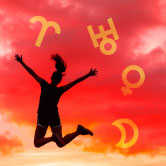 Weekly Astrology: April 4-10, 2016
Pow! Zip! Bang!

This week starts off strong and remains dynamic through the weekend! See what you can expect here:
Tuesday, April 5: Sun trine Saturn; Venus enters Aries; Mercury enters Taurus
The Sun will trine Saturn on Tuesday, allowing you to work hard on any endeavor with grit and commitment.
Venus enters Aries on Tuesday as well. Until April 29, your love life will become more about the chase and less about the catch. Be sure to spice things up with your lover and remind him or her that your sweetie is first priority!
Mercury also enters Taurus on Tuesday, preparing to turn retrograde by the end of the month. For now however, your mind will focus diligently on financial matters and ways to create more stability in your physical world.
See how the current cosmos are impacting YOU! Get a Horoscope Tarot reading now.
Wednesday, April 6: Sun square Pluto
On Wednesday, the Sun squares off with Pluto so it'll be a red-flag day. Don't engage in power struggles with anyone you know you can't really run up against. And if you happen to be the one in authority, don't be a bully. Abusing power on this day will have stiff consequences.
Thursday, April 7: New Moon Aries
On Thursday, a New Moon in Aries is your annual lunation to start whatever it is you want to succeed most over the next year. Make it count!
Saturday, April 9: Sun conjunct Uranus
Then on Saturday, the Sun will conjunct Uranus, offering eclectic but unpredictable energy to all. Be original, but don't go overboard!