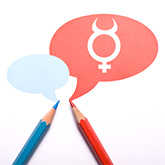 Weekly Astrology: April 6-12, 2014
Think fast! Communication speeds up this week...

Rash decisions and impulsive conversations may be the norm this week, and all the way through April 23.
But when it comes to romance, this week promises a fairy tale ending for everyone -- or at least the perception of one.
See what's in store for you personally with a Horoscope Tarot reading, and here's the lowdown on the key cosmic events the week of April 6-12, 2014.
Monday, April 7: Mercury in Aries
On Monday, communication planet Mercury will enter Aries, where he'll remain until April 23. With the planet of thoughts and ideas in fast-paced Aries, you can bet you'll have a stronger ability to think on your feet and react with decision to anything life throws your way.
Unfortunately, while you will have conviction, you may not have precision. That's because Aries is known for jumping head first into situations without actually thinking things through. Be aware!
Tuesday, April 8: Sun in Aries opposite Mars Retrograde in Libra
On Tuesday, the Sun in Aries will oppose action planet Mars. Because Mars is currently retrograde in partnership-oriented Libra, this may be a difficult mix. For one thing, you may want to move ahead with a plan that will affect you and a partner (business or personal). The trouble is that this scheme doesn't appear to be thought out, so if you proceed it'll be poorly executed. Or, your partner might resist the idea entirely. Frustrating for sure, but it's also a gentle reminder that a relationship isn't all about you. It's about connecting.
Friday, April 11: Venus conjunct Neptune in Pisces
By Friday, however, life becomes enchanting. Love planet Venus will embrace Neptune to remind us that loving unconditionally is the only way to truly love someone. You may have high hopes in the romance department on this day, and yes, some of you will be disappointed. But the hopeless romantic in you will declare that "It is better to have loved and lost than never to have loved at all."
Get more personal advice about life and love with a Horoscope Tarot reading »