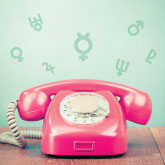 Weekly Astrology: April 6-12, 2015
Communication is key to coming out on top

Communication is key this week, but that doesn't mean it'll be easy. Hang on tight, because there is real potential for a roller coaster type of dialogue!
See what's in store for you personally with a Timeline Tarot reading, and here's the lowdown on the key cosmic events the week of April 6-12, 2015.
Monday, April 6: Mercury in Aries trine Jupiter in Leo; Sun conjunct Uranus in Aries
On Monday, Mercury in Aries will be at a gorgeous trine to Jupiter, while the Sun embraces Uranus. This will be a great day to move forward in fleshing out one of your most brilliant ideas. Sign a contract, make a vital decision, and trust your mind to know that expressing your true self is not an option -- it's a "must."
Tuesday, April 7: Mercury square Pluto
On Tuesday, Mercury squares off with Pluto, and it might be difficult to take what anyone says at face value. Trust in communication may be off, but if you use this day wisely you might be able to dig up information you previously were unaware of. This doesn't need to involve anyone else, by the way -- it might be all about what's going on inside your own head!
Wednesday, April 8: Mercury conjunct Uranus; Jupiter Direct
On Wednesday, Mercury in Aries will conjunct Uranus, and Jupiter turns direct in Leo. Sudden strokes of genius ideas will leave you feeling as if you can accomplish anything. With the right amount of temperance, you can!
Friday, April 10: Mercury conjunct Sun
Mercury will be conjunct the Sun on Friday, once again emphasizing how important it is for you to think on a wavelength that supports the expression of your most vital self.
Saturday, April 11: Venus in Gemini
On Saturday, Venus enters Gemini, and romantic matters begin to focus more on what's inside your head rather than your heart. You'll crave intellectual stimulation from a partner, and if your mate can't keep you on your toes mentally, you might lose interest altogether!
Sunday, April 12: Mars in Taurus sextile Neptune in Pisces
Last but not least, Mars in Taurus will be at a supportive angle to Neptune on Sunday, allowing your mojo to support the manifestation of your dreams. Inspired action is as easy as "ready ... set ... go!"
See what's going to happen in your near future with a Timeline Tarot reading now »