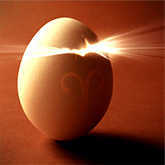 Weekly Astrology: April 8-14, 2013
It's time to make a fresh start!

Get ready for exciting new beginnings! There's a fiery New Moon in Aries this week, and Pluto is going retrograde. It all adds up to digging deep and making big changes in your life.
See what's in store for you personally with a 30-Day Astrology Forecast, and here's the lowdown on the key cosmic events the week of April 8-14, 2013.
Wednesday, April 10: New Moon in Aries
This week it's all about the New Moon in Aries! If there's one lunation you can count on to provide the impetus needed to launch a personal fresh start, this is it. On Wednesday we'll all experience this opportunity, and it's certainly not one you should waste.
Over the next two weeks you'll have an exceptional ability to begin a project or make a personal change that requires courage, independence and a groundbreaking spirit. This New Moon is meant to be "all about you," so don't feel ashamed if you find yourself in a more selfish mode than usual now.
It's OK to be self-directed when there's a New Moon in Aries. If you weren't, you would not be harnessing its energy properly! Just remember not to take this passionate energy to such lengths that you act in a rash, impulsive manner. Use the best qualities of Aries energy and do your best to avoid the shadow expression as you begin this exciting new chapter in your life!
Friday, April 12: Pluto Retrograde
By Friday your attention might turn inward in a rather deep, psychologically rich direction. Don't be afraid ... it's only Pluto. OK, really, you can come out of the closet now -- it'll be OK. It's just Pluto Retrograde, something that happens every year for about five months.
From this Friday until September 20, 2013, Plutonian energy will backtrack and retrace its steps in the zodiac from 11 and a half degrees of Capricorn to 9 degrees. Pluto moves slowly; in fact, he's the slowest planet in the zodiac. When he's retrograde, he might not move much, but don't let that fool you. He'll certainly pack a punch.
For the next several months you'll have an extraordinary chance to dig deep and eliminate whatever outworn patterns relate to the house Pluto is transiting through your horoscope. Think of it as your own personal excavation for the house in your chart that holds these degrees of Capricorn energy. If your Sun, Moon, Mercury, Venus, Mars or Ascendant, or another angle of your chat, is near these degrees (or corresponding cardinal signs Aries, Cancer and Libra) it'll be an especially rich time to slough off some of the dead skin in your world.
Be patient and gentle with yourself as you move through this Pluto Retrograde journey. It will be a slow process and it's meant to be that way. Research and investigate. Where do you give away your power? What situations make you feel most out of control? Now is the time to regain clout over your personal landscape. What can you do to regenerate your soul? Once you figure it out, you'll have several months to focus on it with intense fortitude.
Saturday, April 13: Mercury in Aries
Last but not least, Mercury will speed into Aries on Saturday. Until May 1 you'll enjoy a dynamic ability to communicate without trepidation. Speak your mind with confidence! You might notice that you walk and talk a little faster now.
You might also be tempted to speed as you drive or cut people off during a conversation, so be sure to curb this temptation. Still, the good news with this transit is that your mind will be on fire, allowing you to convey your personal agenda with exceptional magnetism. Go ahead: Talk yourself up!
Watch your Insightful Astrology Weekly Video Horoscope now »