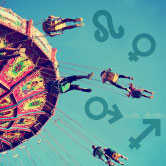 Weekly Astrology: August 1-7, 2016
Up, down, and all around

There's a lot happening in the cosmos this week, bringing a roller-coaster of energy your way! Prepare for both ups and downs...
Monday, August 1: Venus trine Uranus; Sun trine Saturn
On Monday, you'll have a bright day to express the best of your unusual talents, and you'll also have the stamina to direct them in a stable manner. You can thank Venus trine Uranus combined with the Sun trine Saturn for this beautiful cosmic lift.
Ground yourself during this high-energy week with insight from a Celtic Cross Tarot Reading.
Tuesday, August 2: New Moon Leo; Mars enters Sagittarius
On Tuesday, a New Moon in Leo reminds you to open your heart as wide as possible. Loving large has its rewards. On the same day fiery Mars enters adventurous Sagittarius, motivating you to pursue the big picture until September 27.
Friday, August 5: Venus enters Virgo
On Friday Venus enters Virgo, and until August 29 love is found in the details. If your relationship isn't serving a purpose, you might begin to question it.
Saturday, August 6: Mercury in Virgo square Saturn; Venus square Mars
Mercury squares Saturn and Venus squares Mars on Saturday, and communication and passion are not supported.
Sunday, August 7: Mercury opposite Neptune
This trend continues on Sunday when Mercury opposes Neptune. Avoid contracts or vital decisions all weekend.
Get a Celtic Cross Tarot Reading for more personalized guidance »