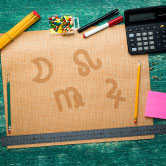 Weekly Astrology: Aug. 10-16, 2015
Down to business

This week your cosmic luck will shift into a new and exciting direction! Well, OK, it might not be as exciting as it is productive but, hey -- there's a time for everything, right?
Tuesday, August 11: Jupiter enters Virgo
Starting Tuesday and until September 2016, Jupiter will be in Virgo, adding amazing emphasis to work, health, and details in life. If any of these areas need a boost, you can be sure that Jupiter in Virgo will help make it happen. Jupiter wants to blow up everything, while Virgo wants to focus only on what is most important. As a result, this transit of Jupiter will become more focused. Earth signs will be in their glory!
Start this fresh new phase with guidance from a New Beginnings Mandala Tarot reading!
Wednesday, August 12: Mercury opposite Neptune
Lines of communication will be fuzzy thanks to Mercury opposing Neptune. Don't make important decisions or sign contracts on this day -- information will be missing and/or difficult to process.
Thursday, August 13: Sun in Leo trine Uranus
On Thursday, when the Sun is trine Uranus, you'll feel a surge of spirited energy that allows you to move forward in an innovative direction that helps you feel alive!
Friday, August 14: New Moon in Leo
Then on Friday, a New Moon in Leo adds to this emphasis, helping you jumpstart a creative project or anything else you're passionate about.
Saturday, August 15: Sun conjunct Venus Retrograde; Mercury trine Pluto
With the Sun conjunct Venus and Mercury trine Pluto on Saturday, you can expect a pleasurable weekend with those tried-and-true people you love spending time with most. Conversations will be deep and meaningful.
Start fresh with a New Beginnings Mandala Tarot reading now »