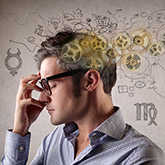 Weekly Astrology: August 11-17, 2014
Stop that brain, I wanna get off

This week, expect romance and intense sexuality, followed by analytical thinking and endless worry. What is going on with those planets?
Read on for the cosmic scoop the week of August 11-17, 2014, and see what's going to happen in your near future with a Timeline Tarot reading.
Tuesday, August 12: Venus in Leo
On Tuesday, love planet Venusenters romantic Leo, and she will remain here until September 5. This is an extraordinary place for Venus to be, as Leo is the most romantic sign of the zodiac. Leo wants to give love and express joy, and when Leo does anything, she does it BIG.
Expect plenty of indulgence in the love department now -- and you'll also have to up your game if you want to enjoy the pleasures in life. That means you'll need to make the person you adore feel like the center of your universe in order to achieve the most heart-stopping reactions. Oh, don't worry ... you'll get the same attention in return. What a love fest!
Friday, August 15: Mars in Scorpio sextile Pluto and Mercury in Virgo
On Friday, Mars in Scorpio will be at a supportive sextile to Pluto, which will give you unstoppable will and determination. This connection can help you achieve just about anything because you simply won't give up. And because Mars rules our libido and Pluto intensifies whatever it touches, you can be sure things will get hot and heavy in the bedroom.
Also on Friday, mental Mercury will enter Virgo, where he'll remain until September 2. Your mind will easily focus on the details with Mercury at home in Virgo, allowing you to edit work seamlessly and up your productivity. The only downside to Mercury in Virgo is that all of the over-planning you do may lead to unnecessary worry and anxiety. Don't overthink!
See what's going to happen in your near future with a Timeline Tarot reading now »