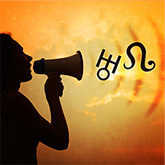 Weekly Astrology: August 12-18, 2013
This week it's all about "me, me, me"

It might be a short week in terms of planetary aspects, but that certainly doesn't mean its short on depth. In fact, we all know that most of the time it's not about quantity, but all about quality. This week we've got superb quality in the cosmic sky!
See what's in store for you personally with a 30-Day Astrology Forecast, , and here's the lowdown on the key cosmic events the week of August 12-18, 2013.
Wednesday, August 14: Mercury in Leo trine Uranus in Aries
What you can surely expect early in the week and peaking on Wednesday is fantastic mental stamina. High spirited, innovative thinking will be a hallmark for everyone, thanks to a gorgeous trine between Mercury in Leo and Uranus in Aries.
Mercury in Leo likes to communicate theatrically. His words need to have flair and this placement is known for being exceptionally talented in the story telling department. When Mercury in Leo is at a friendly angle to Uranus in Aries, there's an added spark of innovation to whatever is communicated. Expect original ideas to fly and Eureka moments dramatically declared in conversation.
The other side of this trine is the fact that it's decidedly ego centered. Everyone will have a grand old time talking about themselves -- or to themselves. It's a "me, me, me" dialogue, for sure. However, the funny part is that because it's a trine, no one will fault you for it. So go ahead, self-promote -- especially when it comes to your most unusual talents and ideas!
Friday, August 16: Venus in Libra
Hearts will open up once again by Friday, thanks to Venus moving into relationship-oriented Libra. It's not that Venus in Virgo is close-hearted -- it's just more tight-lipped when it comes to the expression of relationship needs. The shift in energy will be felt in a major way because now Venus will be in her home sign and much more comfortable to express herself naturally.
What does that entail? Well, Venus in Libra is certainly more social, graceful and charming. From Friday until September 11 you'll have an extraordinary edge when it comes to nurturing the harmony potential in any partnership. The gentle dance of give and take in a relationship will become more of a focus, and in general everyone will be more willing to give.
The exception to this rule will be when Venus squares Pluto and opposes Uranus, but that won't happen this week, so for now just trust that Venus in Libra is certainly in a happy place.
Because this is a short week when it comes to planetary aspects, it's also a good week to focus on your New Moon intentions from last week. Although the New Moon in Leo occurred on August 6, for this entire week you will still have that energy to use to your advantage.
Don't forget to plant seeds of intention that revolve around a new creative project, romance or situation with a child in your life. Use the extraordinary mental energy this Wednesday to flesh out an idea related to your New Moon intentions.
And for this weekend? Expect a lot less "I" and a lot more "we" in your conversations.
Watch your Insightful Astrology Weekly Video Horoscope now »