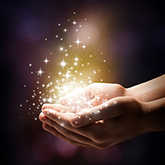 Weekly Astrology: August 18-24, 2014
Thank your lucky stars for this cosmic gift!

This can be an exquisite, lucky week for everyone. Even if your mind is slightly unfocused early on, don't worry -- overall it appears you'll have everything under control by the weekend.
See what's in store for you personally with a Weekly Forecast Tarot reading, and here's the lowdown on the key cosmic events the week of August 18-24, 2014.
Monday, August 18: Venus conjunct Jupiter and Mercury opposite Neptune
It all starts with Monday's glorious conjunction between Venus in Leo and Jupiter in Leo. These two planets in Astrology are known as the "benefics," and when connected you can expect to be blessed! That cosmic blessing of course, depends on where this conjunction in Leo falls in your personal birth chart. In general, however, a Venus-Jupiter connection in Leo suggests a yummy gift in romance, creative self-expression or anything that gives you joy. Yay!
The only possible rub on Monday has to do with Mercury opposing Neptune. You'll think every idea is a good one, and you might put too much faith in someone's words. If this happens, you may be in for a disappointing reality check -- so try not to make any major decisions or sign contracts on Monday.
Thursday, August 21: Mercury in Virgo trine Pluto
Wait until Thursday to make major decisions, because that is when Mercury in Virgo will be at a gorgeous angle to Pluto. That's when you know your mind will be sharp and your judgment can be trusted!
Saturday, August 23: Sun in Virgo
Last but not least, the Sun will move into Virgo on Saturday, and for the next month you'll shine a light on improving yourself in various ways. In particular, you'll focus on work and productivity, and it'll be a great time to concentrate on improving your health.
See what's in store for you personally with a Weekly Forecast Tarot reading now »