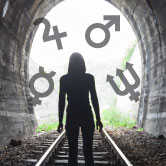 Weekly Astrology: August 22-28, 2016
A light at the end of the tunnel

Joy and frustration will somehow manage to co-exist together this week. Your task will be to learn how to remain in the space of joy, despite any snags...
Monday, August 22: Mercury conjunct Jupiter; Sun enters Virgo
On Monday, things will be easy from a mental perspective thanks to Mercury embracing Jupiter. Your mind will fill with optimistic thoughts and practical solutions to just about any problem. The Sun entering Virgo on the same day emphasizes the practical nature of the day.
Wednesday, August 24: Mars conjunct Saturn
Friday, August 26: Mars square Neptune
Then, on Wednesday and into Friday, we'll see the trouble. Mars will conjunct Saturn and then square off with Neptune. You'll feel like you're forced to sludge through the mud one minute, then like you're falling through quicksand the next. Do what you can to accept what you really can't change, and decide to simply persevere, moving what you know you can.
Saturday, August 27: Venus conjunct Jupiter
On Saturday Venus will embrace Jupiter, and you'll end the week with expansive romantic and financial potential. Indulge in whatever makes you happy. You've earned it!
Make it through the rough patches of the week with guidance from a Celtic Cross Tarot Reading »