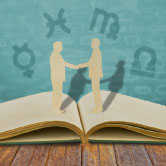 Weekly Astrology: August 24-30, 2015
Make it happen this week!

There are plenty of delicious possibilities this week, both to dream a bigger dream and to make it happen!
Wednesday, August 26: Mercury in Virgo sextile Saturn; Sun conjunct Jupiter
On Wednesday, Mercury in Virgo will be at a perfect sextile to Saturn, indicating extraordinary opportunity to get one of your most vital plans off the ground. You'll have the ability to convince anyone in authority to support your efforts on this day, so be sure to use that to your advantage. You'll also make extraordinary strides if you're working on learning any subject matter that requires deep concentration and fine attention to detail.
On the same day, the Sun and Jupiter meet up for their annual, blessed conjunction. In Virgo, you can anticipate plenty of amazing things to happen connected to your work life or in a health-related matter. You might also use this energy to humbly serve others, and if you do you'll feel lifted up in a way you can't even imagine.
Thursday, August 27: Mercury enters Libra
On Thursday, Mercury enters Libra and you're really able to think about things not only from your perspective, but from your partner's as well. This is a great time to collaborate and brainstorm ideas with others. Decisions made after discussing options with someone else will be more successful than simply going at it alone.
Saturday, August 29: Full Moon in Pisces
Saturday's Full Moon in Pisces will make you aware of the fact that you're part of something much bigger than this physical world we live in. As a matter of fact, you are likely to pay more attention to your spiritual or imaginative side, and might require extra time to sleep and dream or meditate and fantasize. You'll have plenty of faith and compassion, so be sure to use it well.
Astrology and Tarot unite! Get guidance for every facet of your life this week with a Horoscope Tarot reading »
Now watch YOUR zodiac sign's Weekly Horoscope Video!