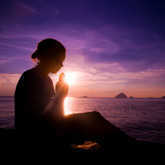 Weekly Astrology: August 25-31, 2014
Cosmic stress? Do what brings you peace...

Are you ready to get your act together? This week kicks off with the perfect lunation that will allow you to do exactly that. You'll have to act fast, though, because after Tuesday there's a bit of cosmic stress.
See what's in store for you personally with a Horoscope Tarot reading, and here's the lowdown on the key cosmic events the week of August 25-31, 2014.
Monday, August 25: New Moon in Virgo; Mercury in Virgo sextile Mars and Saturn in Scorpio; Venus in Leo trine Uranus; Mars conjunct Saturn
On Monday, a New Moon in Virgo will allow you to begin a habit that will improve your health, productivity or efficiency. If you need to organize any area of your life, be sure to act after this lunation.
Also on Monday, Mercury in Virgo will sextile both Mars and Saturn, allowing you to direct your plans with precision and confidence. Mars conjunct Saturn in Scorpio allows you to get to the heart of any situation and dig deep to transform at the roots. As for love? With Venus trine Uranus on Monday, you and someone special might enjoy an unexpected treat.
Tuesday, August 26 and Wednesday, August 27: Venus in Leo square Saturn and Venus square Mars
Unfortunately, the mood will shift dramatically by Tuesday, when Venus in Leo locks into a square with Saturn, and then squares Mars on Wednesday. Love will not be easy on these days, and it'll be difficult to get what you want out of romance.
Your best bet? Decide you'll be the one who gives unconditionally. While your lover may not show appreciation or reciprocation on these days, at least you'll know you're taking the high road in matters of the heart.
Friday, August 29: Sun opposite Neptune
On Friday, the Sun will oppose Neptune, and you'll best direct this aspect in an artistic or imaginative pursuit. If you feel you're floundering, perhaps you're better off indulging in a healthy escape. Attend a concert, hit the beach or make it a spa day. Do what gives you peace.
See what's in store for you personally with a Horoscope Tarot reading now »